Hear the Full Interview Right Here!
March 30, 2018 -
The Suwannee Swing Saloon paid a visit to Southwest Florida's local NPR station to play a few tunes and have a chat with John Davis, host of Gulf Coast Live.
Hunter Dahlen, band leader and violin/vocalist, explained the concept behind the venturous new band and the fascinating music behind it. When asked to define the genre, Dahlen had this to say:
"Western swing is a genre that maybe most people aren't familiar with. I guess the best way to describe it is a stew of things."
Dahlen continued to explain that Western Swing is a combination of fiddle tunes from Appalachia, big band sounds from the Northeast, the country music coming out of Texas, and the blues of the Mississippi Delta.
"They threw it all together and made a really tasty stew with it!"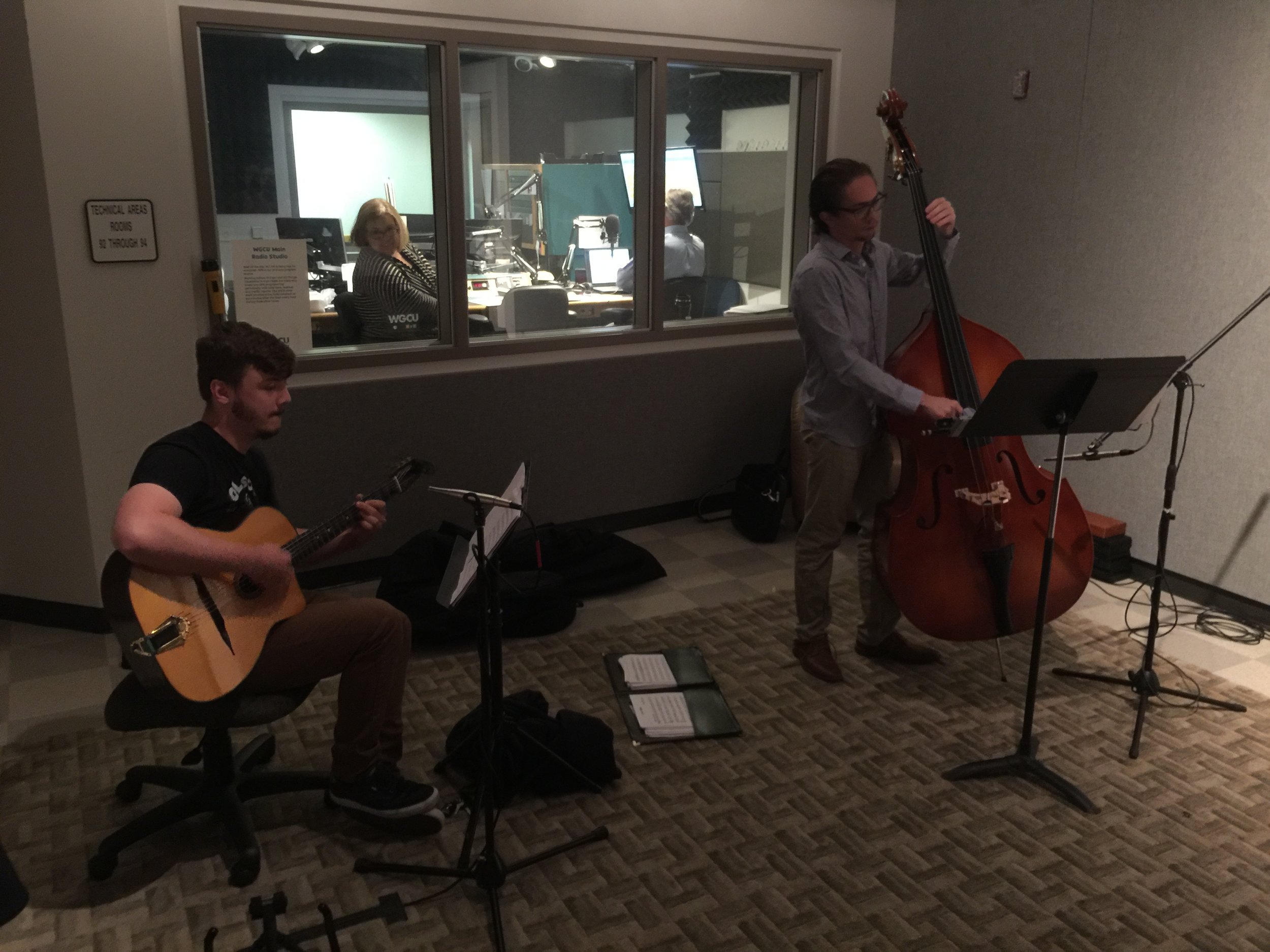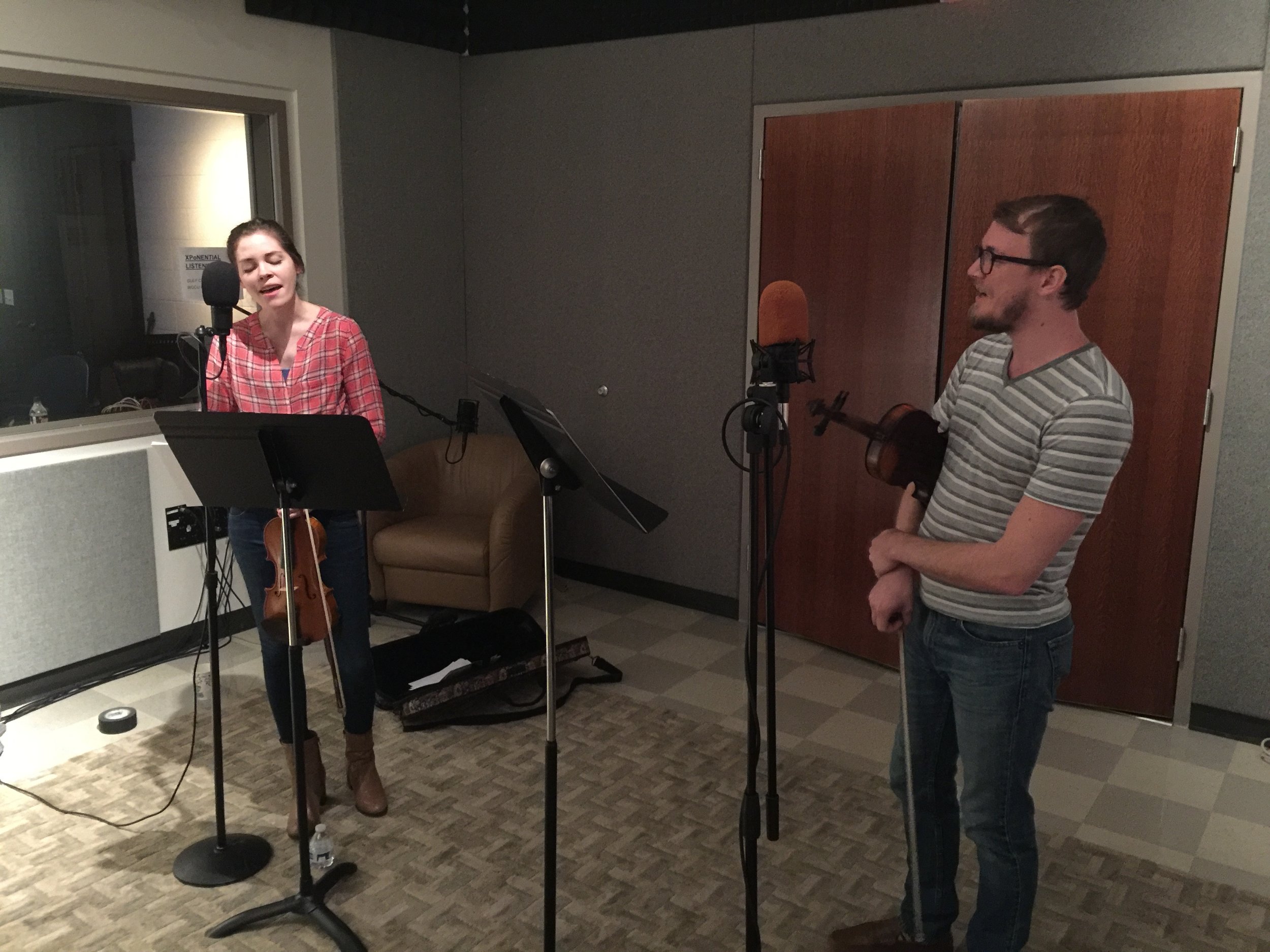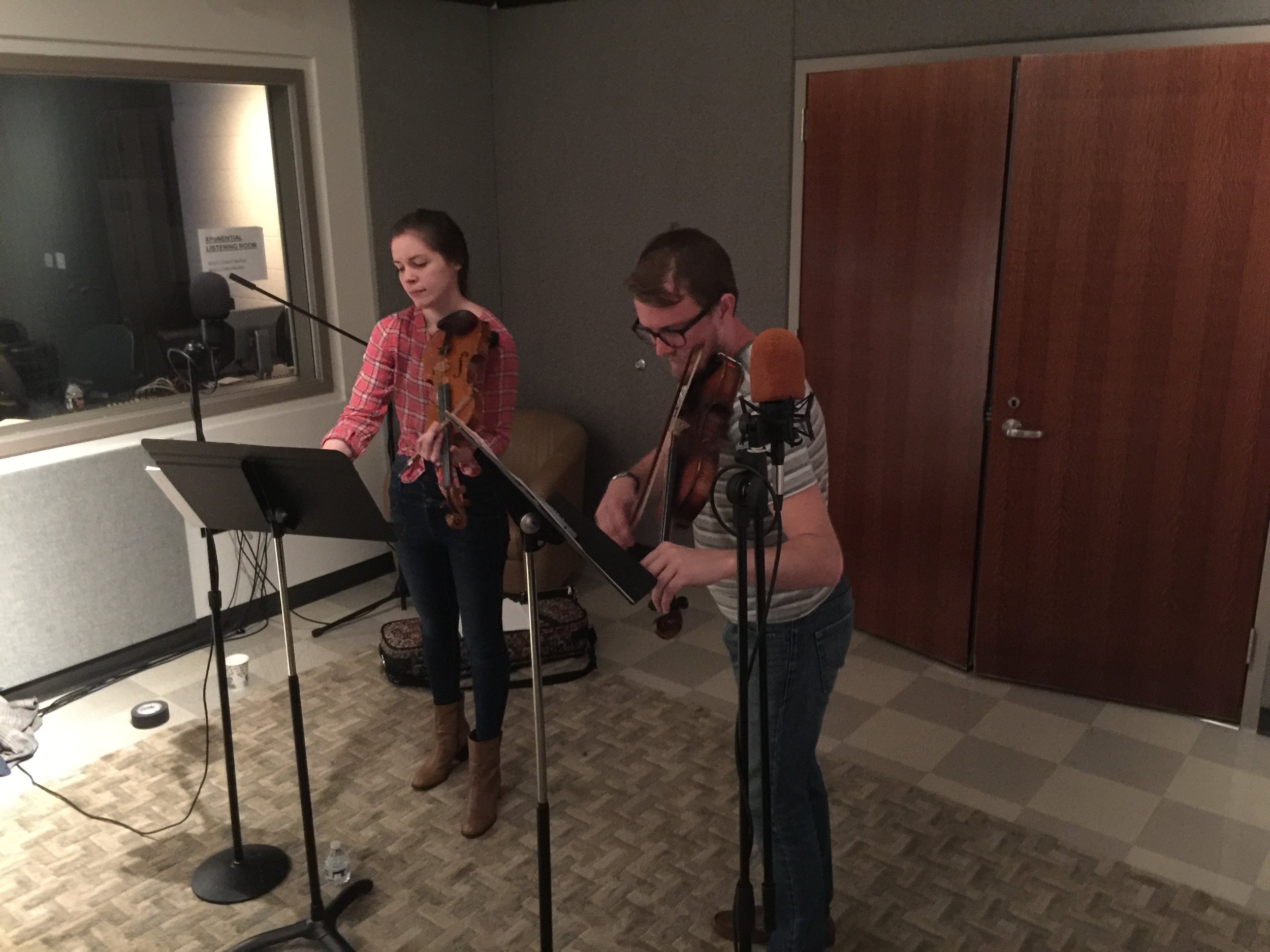 Kathryn Fox (M.M.), violin/vocalist, explains her roots to Florida, where she lived for seven years, as she studied at the University of Miami, Frost School of Music where she obtained her degree as a Master of Music in Performance. Now an Adjunct Professor of Music at the School for Music Vocations at Southwestern Community College in Iowa, she explains how her classical upbringing has enhanced not only her academic career but also her ability to cross over into more contemporary genres. When asked how she came to become apart of the Suwannee Swing Saloon, Fox responded:
"I was an artist in residence at Florida Gulf Coast University in a group called Barrage, a cross-genre group, where we were working with some students. During a performance rehearsal of a Bach Brandenburg [Concerto], I looked over at one of my bandmates and said 'That viola player [Hunter Dahlen] has really good time ~ he can't just be a classical player... I've got to go talk to him!"
Fox explains that, after being invited to a performance with Dahlen at one of his regular venues, Point Ybel Brewing Co., they instantly became great friends and performed live with each other whenever the opportunity was available.
Robert Kissinger, guitarist, provided some insight as to the similarities between Western Swing and other genres of swing, specifically the gypsy jazz sounds of Django Reinhardt.
"What a lot of people don't know is that gypsy swing and western swing are very similar. In the 1920's and 1930's, when guys like Bob Wills were doing Western Swing in Texas, there were people in Europe and Belgium, like Django Reinhardt, who were creating basically the same thing. It was just happening in two different corners of the world."
Kissinger explains that these musical similarities allow for a relatively painless adaptation for musicians with experience in the overarching swing genre.
Jonathan Ingram, bassist, points out that he jumped at the opportunity to be apart of the ambitious young band because of his joy for music and all of the different forms it can take.
"For me, all music is music, I just try to play as many genres as I can!"
Ingram explains his choice of instrument is aligned with his desire to expand his repertoire and build a more diverse musical history. Ingram claims he "ditched" all of his other instruments for the bass for its versatility.
"I fell in love with the bass because it allows me to play all different types of music."
Ingram went on to say that, both before and after graduation from FGCU, he is excited about playing with the Suwannee Swing Saloon and across Southwest Florida.
Thank you to John Davis and his team at Gulf Coast Live and all of the wonderful staff and supporters of WGCU, one of our favorite radio stations anywhere!
Tune into 90.1 FM at 1:00 PM on weekdays to hear more brilliant content from John Davis and Gulf Coast Live!